Specification of machine model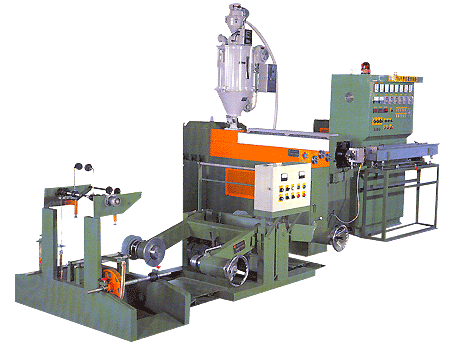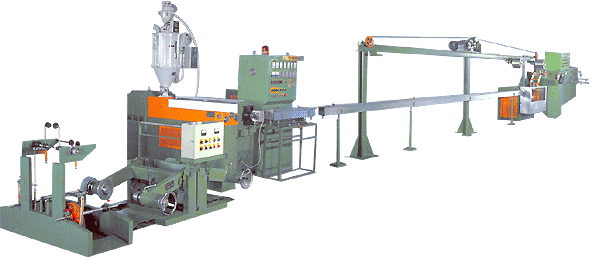 SPECIAL FEATURES:
High productivity and stability are ensured under continuous operation.
The machine is manufactured after a series of tests with all sorts of insulated material.
The shapes of screws depend on what kinds of insulated materials are used.
Their accuracy and durability are both very high.
With respect to Plastic Extruder, electrical heating and air cooling method is adopted,
the temperature is controlled automatically.
While operating, the speed of the machine is controlled with steplessly connected coupling method.
Other speed-control methods can be adopted, if necessary.
Various kinds of auxiliary equipments, e.p. Wire supply stand, capstan and take-up stand are
also manufactured.


MODEL

EX-50-24L

EX-65-24L

EX-70-24L

EX-90-24L

EX-100-22L

EX-120-22L

EX-15-22L

Nominal capacity
( kg/hr-PVC )

90

125

150

200

220

290

350

Pay off Unit

Flange Dia
of Reel(mm)

400/500

400/600

500/760

500/1500

1000/1800

1000/2000

750/200

Over all Width
of Reel(mm)

300/400

300/400

400/500

500/750

600/1200

750/1120

750/1120

Extruder

Screw Dia(mm)

50

65

70

90

100

120

150

Screw Ratio

24/1

24/1

24/1

24/1

24/1

22/1

22/1

VS Motor(HP)

15

20

25

40

50

75

100

Heating Section

3

3

4

5

6

6

7

Heater(KW)
Capacity

7.2

7.2

9.6

12

14.4

14.4

16.8

Cross Head

Heating Section

2

2

2

2

2

2

2

Heater (KW)
Capacity

1.5

2

2

2.5

2.5-3

3-4

3-4

Cooling Tank

Length (m)

8

9

9

12

15

15

15

Take Off Unit

Pulling System

DUAL
wheel

DUAL
wheel

DUAL
wheel

DUAL
wheel

Caterpillar

Caterpillar

Caterpillar

VS Motor (HP)

3

5

5

7 1/2

7 1/2

7 1/2

10

Take off Speed Max.

5-50
25-250

5-50
25-250

5-50
25-200

3-30
20-120

3-30
20-120

2-30
15-100

2-20
15-100

Wind Up Unit

Flange Dia of Reel (mm)

400/750

500/1000

500/1200

750/1800

1000/1200

1200/2600

1300/2600

Over all Width

300/400

300/400

400/500

500/600

750/800

700/800

700/800

VS Motor (HP)

3

5

5

7 1/2

10

15

15

KON HO MACHINERY INDUSTRIAL CO., LTD.
No.46, Ln. 473, Sec. 2, Hezun N. Rd., Jhongli City, Taoyuan County 320, Taiwan (R.O.C.)
TEL:886-3-4621997 886-3-4621998 FAX:886-3-4621999
E-mail: konho@cables-machinery.com