GENERAL INTRODUCTION:

In order to meet the increasing requirement of processors in the copper wire field, this firm has developed and manufactured more advanced tin-plating machines, which are of annealing tunnel furnaces, tin-plating stoves, rollers and winding machines.

This model is designed through years of our experience and modern technology so as to
ensure good performance and its high efficiency.

SPECIAL FEATURES:

Continuous softening and tie-plating action may be obtained simultaneously.
Tin-plating in tank may be made horizontally or vertically.
Applied in the process of tin-plating is an eye viewing die which may be used in conjunction with tungsten steel die or diamond die.
Thermo-preserving system of the tinning oven and annealing oven is made after careful studies by experts.
Hence, uniform temperature may be obtained and power consumption is relatively low.
This machine is equipped with a feeding wheel whose speed may be adjusted according to require ents by a sliding speed controller.
Wire winder is made for honrizontal operation; so it is easy to discharge the wire.
The wire winder uses a motor of special torque.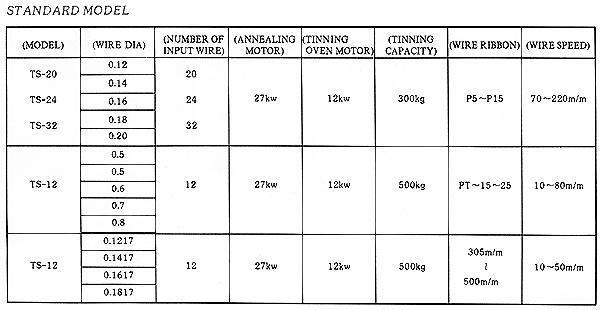 KON HO MACHINERY INDUSTRIAL CO., LTD.
No.46, Ln. 473, Sec. 2, Hezun N. Rd., Jhongli City, Taoyuan County 320, Taiwan (R.O.C.)
TEL:886-3-4621997 886-3-4621998 FAX:886-3-4621999
E-mail: konho@cables-machinery.com